Motivating a sales force and ensuring they are working their sales area to its fullest potential is difficult but vital for ongoing growth in the excessively tight on premise wine market. Categorising customers into similar groups which distinguish customer or consumer needs is a powerful method of optimising sales potential, especially when tied to a suitable budget.
The Wine Rep created this On Premise Matrix a couple of years ago to help improve the on premise sales of a wine distributor, linking venue categories to a ranging budget irrespective of actual sales (sales will follow ranging). This page contains a simple description of the matrix, while the downloadable pdf (at bottom of page) contains further information and an in depth description of the powerful On Premise Matrix Points Budget.
Venues are broken down into groups based on their style and wine needs, as shown below: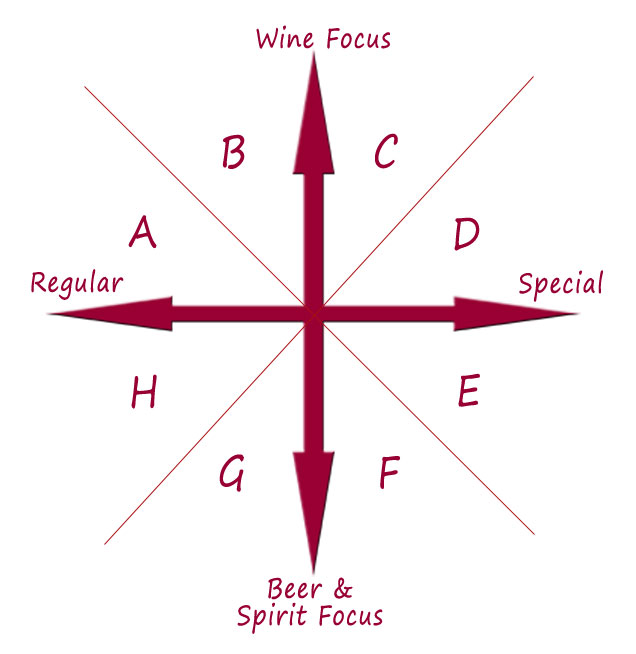 Any on premise venue can be put into this matrix based on their style (regular/causal through to special/fancy) and their drinks focus (beer/spirits through to wine). So a silver service restaurant would sit  in category D, while a casual cafe might sit in A, an expensive nightclub in E and a family Chinese restaurant in B or C. Venues with both on and off premise areas would be included to ensure the on premise side of the business is looked after (many reps leave after only visiting the retail side).
Slotting venues into the matrix is job one and the easy bit, it is what happens next that can prove powerful to improving sales. A distributor or sales team can use this matrix to:
target promotions. Wine X might be a cheap and cheerful white with a good buy deal for the next month – set each rep a budget of 5 A or B venues to sell wine X into.

allocate customers to reps. The boisterous and brash big deal selling rep should be given A, B, H and G accounts, not C or D accounts, which should be looked after by the smooth talking and wine savvy on premise specialist.

set allocations. There's no point giving the rep with no D or E accounts a large budget of reserve or back vintage wines, while the rep with large A, B and C accounts could be given a higher proportion of banquet / house wines.

set on premise sales budgets. This is the big one, the one that would take focused effort put into place yet has the best potential for growing sales. Imagine each on premise venue has its own budget, determined by the category it sits in. Then imagine that each venue has this budget whether they are active customers or not. Now imaging that this budget has nothing to do with boxes sold, rather wines ranged by bottle or glass. This is further discussed in the downloadable pdf.
This matrix is easily customised to a sales force's needs, and the extent to which it is integrated is entirely dependent on the style of business and it's current set up. In a market as tight as today's wine market, any sales driven organisation that fails to put time and effort into customer analysis and categorisation is risking sales needlessly. This matrix is one of many ways to do this – does your organisation have a proper customer management process in place?
Download Full Guide: